Margaret Anna Nolen, 86, of Beaufort, passed away on Wednesday, January 18, 2023, at Carolina East Medical Center.
A funeral service will be held at 12:00 PM Monday, January 23, 2023 at Queen Street Missionary Baptist Church in Beaufort. There will be a visitation one hour prior.
Margaret Anna Vann Nolen was born on February 2, 1936, to William and Gertie Mae Ellison Vann in Beaufort, NC. She accepted Christ and was baptized by Reverend Nelson K. Dunn at Mount Zion Baptist Church, Beaufort, NC.
Ann or Mama Ann as she was affectionately called was educated in the Carteret County Public Schools (Queen Street); and later attended Harris Beauty School, New Bern, NC. Ann was a licensed Cosmetologist for many years, and later years she worked in the Housekeeping Department for the Carteret County School District and Harborview Nursing Home.
In 1963, Ann married Earl Dallas Nolen and was blessed with four daughters, Marion, Sherry, Pamela and Rhonda; 13 grandchildren, 17 great grandchildren, and one great great grandchild.
Dallas preceded her in death in April 1984, and in 2000 she married Peter Campbell who preceded her in death in 2004.
Ann was a faithful servant at Queen Street Missionary Baptist Church, Beaufort, NC and was a member of the Ushers Board until her health began to fail her.
Ann was preceded in death by her parents William and Gertie Vann; her four brothers, William Howard, Nathan Earl, Gerald Howard and Eric Alphonso Vann; her three sisters, Barbara Jean Fisher, Marilyn Yvonne Hacker and Carol Virginia Vann.
On Wednesday, January 18, 2023, Ann entered into eternal rest with her Lord and Savior Jesus Christ. She leaves to cherish her memories, Reverend Marion Bell Hill, Beaufort, Sherry N. Villa, Beaufort, Pamela N. Harper (Wallace), Wilmington, DE and Rhonda N. Henry (Luther), Greenville, NC; 13 grandchildren, Carmia Frazier (Chris), Alviseya Villa, Clifford Bell Jr., Karen Martin (Jason), Patrick Bell (Tacara), Francisco Villa (Melissa), Gertisha, Wallace Harper Jr., Eric Harper, Tyler Nolen, Luther Henry Jr., Kateesha Henry and Camryn Nolen; 17 great grandchildren, and one great-great grandchild; four brothers, William Ronald Vann, Pascagoula, MS, Robert E. Vann (Vera), Beaufort, Richard D. Vann, Wilmington, NC and Brian D. Vann, Jacksonville, NC; a grand host of nieces, nephews, cousins and family members; her lifelong friend Mrs. Harriet Frazier, and her household of faith family, Queen Baptist Church.
Condolences and life tributes may be sent to the family at www.noefs.net
Arrangements by Noe Funeral Service, Inc. of Beaufort, NC.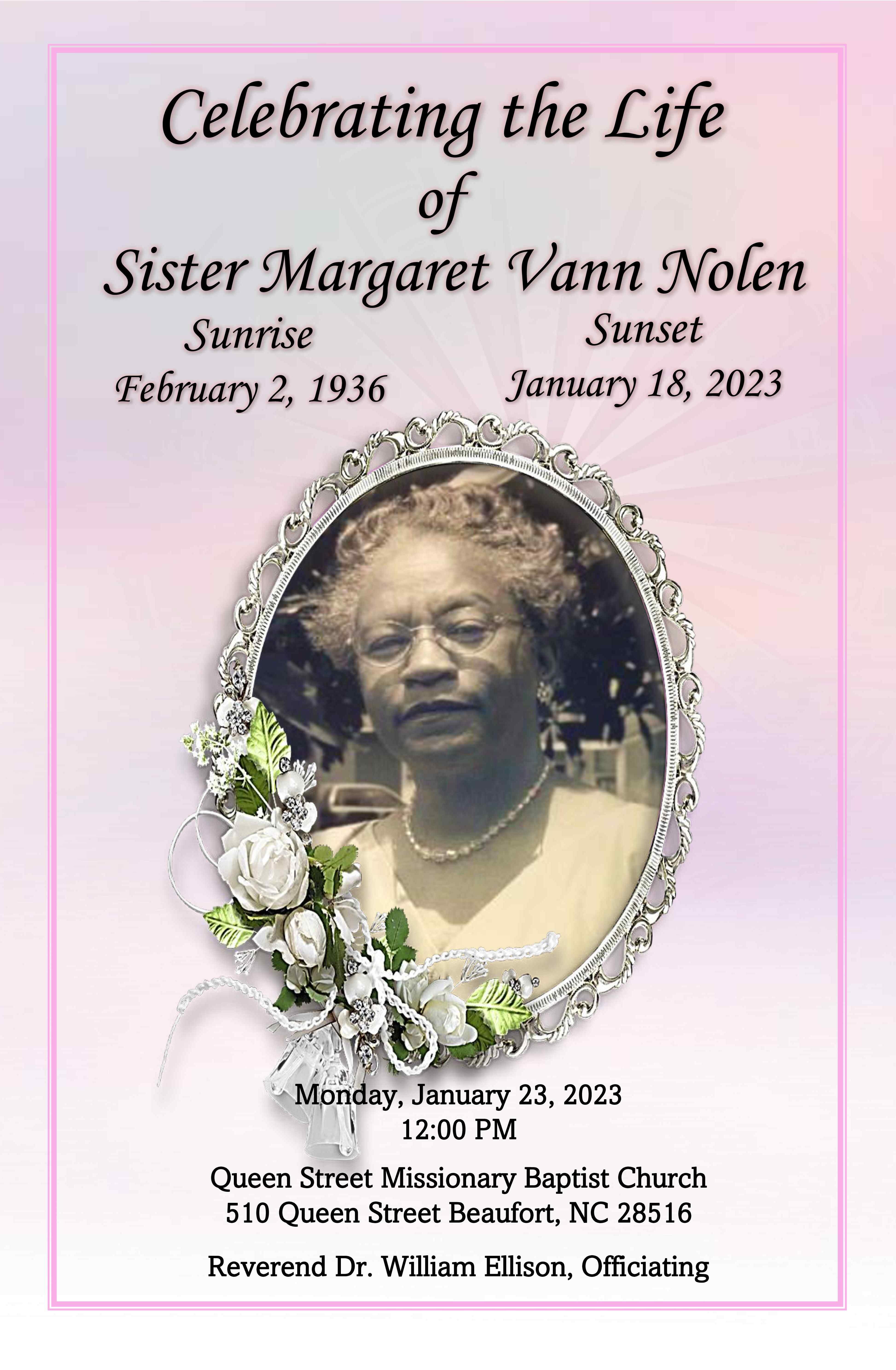 Margaret Nolen's Memorial Folder
To send flowers to the family, please visit our floral store.